Operations
Centralize and remotely operate your facilities with OTEA
Receive real-time data on the status of all your facilities, compare the performance of your real estate assets and use the information to act and promote energy and operational efficiency measures. You can also use OTEA to save maintenance costs, to avoid the displacement of technical personnel or to launch maintenance tasks remotely.
Make data-driven decisions
Receive objective information remotely and make good decisions by knowing the energy and operational reality of your facilities.
Reduce costs and increase efficiency
Turn your facilities into smart spaces and improve their operation while reducing maintenance costs.
Improve the user experience
Guarantee the well-being of the people who make use of your facilities by effectively managing comfort parameters such as: temperature, relative humidity or air quality.
Increase the value of your real estate
Transform your facilities into valuable real estate by meeting the needs of their stakeholders and turning them into a factor for business growth.
They trust in OTEA
How does it work
Turn your facilities into smart spaces with OTEA
Monitor your facilities, view everything that is happening in real time and manage them with remote supervision thanks to the IoT.
Step 01
Program schedules and operating calendars
From OTEA you can view and modify holiday schedules or calendars configured with Ares.
The schedules are used to start and stop machines or systems according to the operation of your facilities. From OTEA you can check, modify or block them in real time. Also, if you have more than one schedule configured, you will be able to see them cumulatively.
Use the calendars to mark the holidays for each year according to the location in which each facility is located.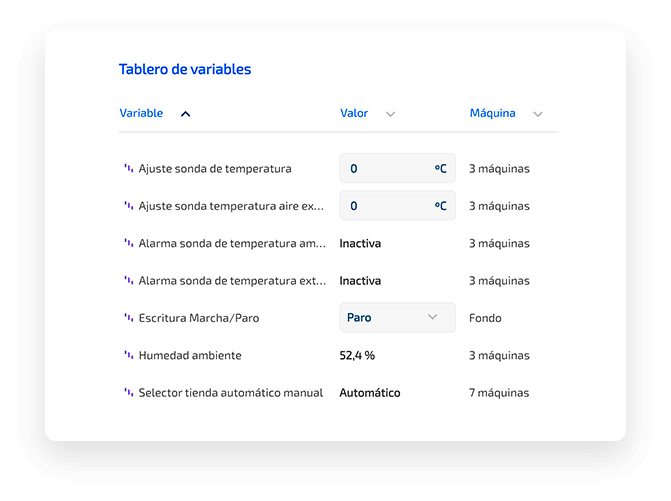 Step 02
Start or stop machines remotely
Manage each machine in your installation from anywhere in the world. Use OTEA to integrate and govern all the equipment in each of your facilities and keep your business running no matter where you are.
Types of remote equipment management
Manual start / stop
Reset
Manual modification of comfort settings (temperatures, air quality, relative humidity…)
Regulation of lighting systems
Manual modification of equipment values
Step 03
Modify setpoints or variables
Use OTEA to change the value of a variable or adjust a setpoint remotely, this way you prevent the users of an installation from manipulating thermostats and other equipment.
By being able to integrate thousands of references in OTEA you will be able to remotely manage almost any machine avoiding misuse or human errors. In addition, you will be able to see general plans of machines with relevant information.
Some examples of machines and systems manageable from OTEA
air conditioning systems
Illumination systems
Air curtains
Furniture and cold systems
Step 04
Document everything that happens in your facilities
You can use OTEA to save in the document directory of each installation all the electrical diagrams, CAD plans, energy labels, certifications and any file that you consider important to carry out good maintenance management of your facilities.
All the documents available within the directory can be viewed directly in OTEA, downloaded or printed.
OTEA for maintenance.
A tool to feel close to what is far away
OTEA's functionalities help maintenance departments to manage their installations remotely, avoiding unnecessary trips and quickly detecting breakdowns.
Security
Optimize your processes by turning machines off and on in just a few seconds and avoid incalculable economic losses by quickly detecting problems in your facilities, breakdowns and even leaks.
Efficiency
By operating remotely, you increase your knowledge of your facilities, reduce costs and develop your ability to identify improvements, detect inefficiencies or discover bottlenecks.
Sustainability
By digitizing your facilities, you save energy, water, gases and you help your team to travel by car only when necessary. These small changes translate into CO₂ emissions that will never reach the atmosphere.
Do you need more information?
Start controlling your facilities.
Get in touch with us so that we can design a personalized strategy for your company.