FAQS
Frequently asked questions
If you have more doubts or questions
You can contact us through our website Currently we only offer our tax meter reading service in Spain through the data provided by the electricity distributors. . Our consulting, monitoring and control services for processes and installations are available all over the world.
You can always contact our team through our website. You can also write us at clientes@ecomt.net or call us at +34 981 90 55 55 whenever you need help.
The data of the meters that you can see in OTEA are imported from Datadis. Datadis is a platform that the Spanish electricity distribution companies make available to users so that they can consult the consumption data of their meters.
OTEA collects the information from Datadis through its APIs so that you can analyse it in detail.
If you are wondering if we need your authorization to connect Datadis data to OTEA, it is important that you know that we do. Without your consent we cannot import any data. Therefore, in order to do so, you need to register with Datadis and consent to third parties requesting access to your supply data.
We access: https://datadis.es/nikola-auth/login.
Go to the Registration area to register.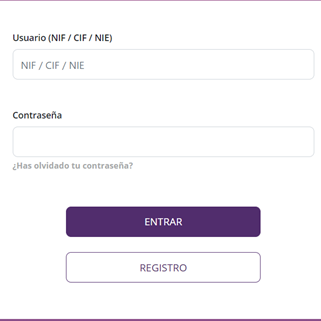 It is a simple process, in which we have to enter a series of data from our company (related to the VAT number of the person who has the supplies under their name).
It is important that all authorization boxes are checked to access the data. Furthermore, in order to do the registration correctly, it is necessary to validate the identity of the holder by means of a digital certificate.
Once registered, access Datadis again with your credentials to authorize third parties for supply management. Go to Authorizations > Requests section. In the section: Send Authorization Permit for my Supplies.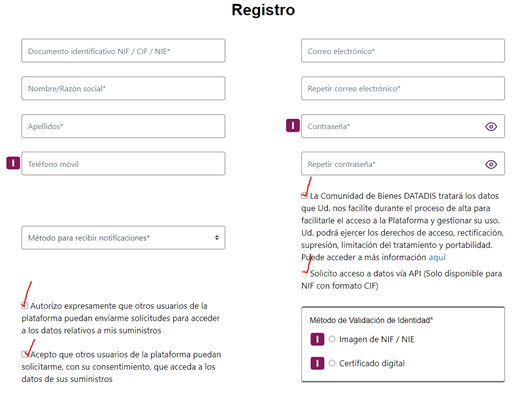 Then, we introduce the VAT number of EcoMT (B70246541) in: VAT number I authorize to access my CUPS* and click on the button: Select my CUPS. Finally, Datadis will request to select:
The period of validity of the authorization. We recommend selecting the longest term – two years.
The volume of registered supplies on which access is given. We select all available.
Once done, we finish the registration by clicking on the button: Apply to all.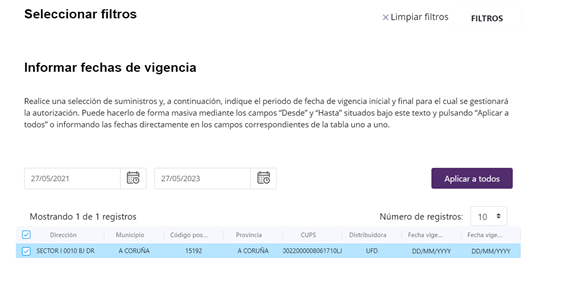 Some of OTEA's functionalities are related to the connection and installation of equipment. If you have only contracted the integration in OTEA of the company meters, for example, you will not be able to enjoy the configuration of machine operating hours.
The transparency and integrity of your data during its processing and storage is very important to us. We comply with data protection regulations, including the EU General Data Protection Regulation (GDPR)
We value and respect your privacy. Details on how we process your personal data are available in our Privacy Policy.
You can, within limits. We facilitate the adjustment of contracted services through our business development team.
If you wish to adjust your contracted services, contact your manager within EcoMT or write to us at clientes@ecomt.net and we will contact you as soon as possible.
You can cancel your subscription at any time. What if you ever want to come back? No problem! We will create a new account for you. Please note that our prices change from time to time, so your new subscription may have a different rate.